UNDER CONSTRUCTION: INCREASED SPEEDING FINES. 04DEC03 version
The Television Series that Saved Lives
Below taken from break screen and reversed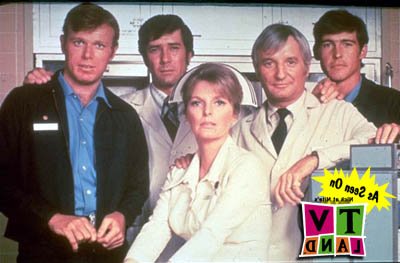 Introduction:
"Emergency!" was an NBC TV series broadcast from 1972-7 with periodic two-hour movies following the subesequent year. The show dealt with the Los Angeles County Fire Department's paramedic program and the activities of Rampart General Hospital.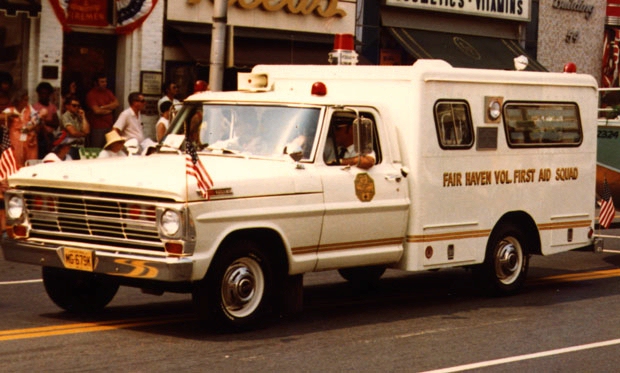 1970 Swab Ambulance operated by Fair Haven First Aid Squad. Would you believe this rig belonged to a volunteer service? Courtesy Fair Haven First Aid Squad.
Introduction
To those not familiar, the television series, "Emergency!" was a 1972-77 show that aired on Saturday nights on NBC. It concerned two Los Angeles County Fire Department paramedics, Johnny Gage and Roy DeSot o, and the staff of Rampart General Hospital's emergency department. The plots centered around multiple disasters, medical emergencies, and sometimes humor and everyday situations held together the plot.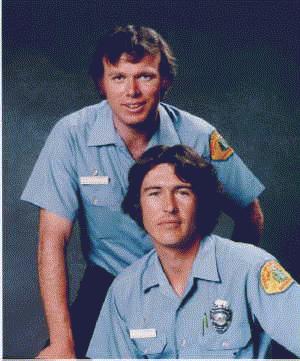 The series also included the crew of Station 51 , from which the paramedic's unit, Rescue Squad 51, operated. Despite having laundry soap advertising, the series attracted those between two years old and eleven. The show took viewers from the genesis of the paramedic program in early 1972 (actually it began in 1969 as an experiment) and the training of Gage and DeSoto to their promotion as captains. Two hour episodes were produced until 1978 and the actors did cross over shows for "Adam-12"
"LACoFD" denotes REAL members of the Los Angeles County Fire Department
Fireman John Gage : Randolph Mantooth (The City soap opera)

Fireman Roy DeSoto: Kevin Tighe (Roadhouse, Another 48 Hours)

Doctor Kelly Brackett, MD, FACS: Robert Fuller (Laramie, Wagon Train)

Doctor Joe Early, MD, FACS: Bobby Troup (wrote "Route 66"; Dragnet)

Dixie McCall, RN: Julie London (singer; former wife of Jack Webb)

Doctor Mike Morton: Ron Pinkard (Dragnet, Perry Mason movies)

Captain Hank Stanley: Michael Norell

Captain Hammer (197 2): Dick Hammer, Captain, LACoFD

Fireman Chet Kelly: Tim Donnelly (Dragnet, The A-Team)

Fireman Marco Lopez: Marco Lopez

Fireman Mike Stoker: Mike Stoker, LACoFD

Officer Vince: Vince Howard (Dragnet, Hawaii Five-O, Wild Wild West)

Dispatcher's voice: Sam Lanier, LACoFD

Thank You!

I wish to thank everyone for their contributions and E-Mail. Many more people remember "Emergency!" than even I realize.

Visit this page for a story on early EMS and one of its people fighting a crippling disease. I tracked him down a few months ago and he is still struggling but helping others in need.

A Word on the Photos

I don't get catty about the photos on these pages like some webmasters. I do, however, ask that you attribute my page as a source if you copy them. I have had to scrounge for these and in fact am in sore need of donations. Please help me!

Availability

There are numerous stations airing "Emergency!" Videotapes are available via Ebay.

REPORT: Billy May, "Emergency!" background music director; dies

Composer, Trumpeter Billy May Dies at 87 Sat Jan 24, 7:09 PM ET By JEREMIAH MARQUEZ, Associated Press Writer LOS ANGELES - Billy May, a Grammy-winning composer and trumpeter who arranged such standards as "Cherokee," "Take the A Train" and "Serenade in Blue" and worked with such stars as Bing Crosby (news), Frank Sinatra (news) and Glenn Miller, died at age 87. May died Thursday of heart failure at his home in San Juan Capistrano, his wife, Doris May, told The Associated Press on Friday.

Personal Memories
I watched the show as a five year old kid growing up south of Macon, GA where we didn't have paramedics (or much of a fire department) until a few years later. I lived for Saturday nights. I remember one episode that aired after the show was off for a few weeks in the summer of 1973. Our local NBC affiliate showed repeat episodes, packaged as "Emergency! One" while the series was still in production.
I was so unhappy when the series went off the air but was particularly mad when it went out of syndication. At least until puberty.
I built a fire truck out of garden hose, a red wagon , and a step ladder. My house had all sorts of emergency numbers plastered by the phone. I got a Johnny Gage doll when I was seven and pinned the cardboard it was packed in to my room's wall. I read whatever I could get my hands on as far as firefighting and first aid. I searched in vain for Johnny and Roy among those library bookshelves. My sister got a first aid textbook, albeit an old one, for me to read..
Thus I was in love with EMS. It took me until well into high school to realize that I needed some thing a little different.
But I didn't close the door altogether on it. I took a First Responder course and I started an EMS page in 1995 but I decided not to since I wasn't in EMS. I tore down the page but felt I still had to honor one of my favorite shows. Thus in 1997 I reconstructed my page as the "Emergency !" page.