"Emergency!" and the Story of Emergency Medical Care
revised 04.16.01.
Possibly the best publicity agents EMS had during the Seventies were Johnny and Roy. They worked in concert with the Emergency Department of Rampart General Hospital. Patient transport was done by privately run ambulances which had no paramedic personnel of their own. The paramedic function was performed by the fire rescue squads.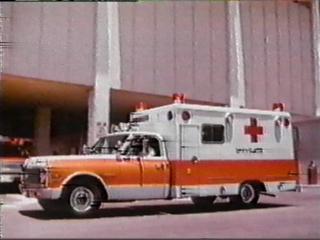 Screen capture from USENET.
The paramedic program on the show's pilot began with six graduates, including Roy DeSoto. Johnny Gage accompanied Roy on his second run through the three month training program (in real life it was six months). They had to give each other injections, learned how to defibrillate patients, and other nuggets of lifesaving information. This represented what DeSoto called "the most important innovation in emergency medicine in fifty years."
Meanwhile, politicians were trying to pass a bill that strangely was enacted into law the same night Gage and DeSoto responded to a cave in and Brackett had to decide upon letting the paramedics treat a cardiac arrest victim.
Dr. Brackett did not actually found the program; an opponent, he changed his mind after Dixie was saved by Johnny and Roy's work (despite not being legally certified)
Already the firemen on the rescue squads knew how to render basic life support. The main story line of the pilot and other shows was that this was inadequate. This socio-medical theme appealed to many but not the baby boom demographic which wanted more universal and timeless themes such as those on cop shows and Archie Bunker.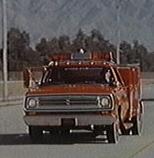 The significance of "Emergency!" is best understood by what goes on in a medical emergency. Half of the heart attack victims die before reaching the hospital. 140,000 people die of injuries every year. Looking at what happened before adequate EMS (Emergency Medical Services) took form makes the work of Johnny and Roy more important. According to a June 1972 US News and World Report magazine article 60,000 lives could be saved by adequate pre-and-post hospital care. Emergency cases had to wait four hours on average before receiving "expert care." At the emergency room patients Only 17 per cent of ER's had a doctor on hand at all times.
---
Only 5% of ambulance people had the eighty hours of emergency medical training the US Department of Transportation recommended (today the national standard has over 200 hours.)Only 6 per cent had two way radios. Of course if you had a medical emergency you had to dial a seven-digit number and odds were no fire rescue squad responded "first-in" ahead of the ambulance; all you got was an ambulance and 54 per cent of those were hearses, station wagons, vans or trucks.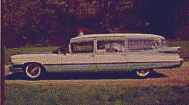 This gave a sci-fi quality to "Emergency!" In the late Fifties the American College of Surgeons was alarmed at emergency care and Congress passed the 1966 Federal Highway Safety Act to prod states to set up accident care systems. But the paramedics had their root in Ireland where J.F. Pantridge, a cardiologist, outfitted a vehicle with portable cardiac gear to respond to heart cases. He and other doctors staffed the unit. St. Vincent's Hospital in New York City and later Charlottesville-Albermarle Rescue Squad borrowed the idea of the flying doctor.
---
Unfortunately in the US There was a shortage of doctors. Faced with a low success rate in CPR as delivered by fire department ambulances, Miami's Dr. Gene Nagel began a program to train firemen to use defibrillation gear in the field. The secret to supervising them was telemetry, a space-age development which linked the EKG units at the patient's side to the doctor. His units were equipped to handle other medical emergencies. Later he would train his troops in giving intravenous fluids. Jacksonville copied his program as did Seattle in 1971.
---
The actual Los Angeles County paramedic program was started as an experiment in 1969 by J. Michael Criley, a cardiologist at Harbor General Hospital (now Harbor UCLA Medical Center) and with the backing of County Supervisor Kenneth Hahn. Criley found that the firemen had an excellent response time to emergencies. The quick response time would help reduce the deaths from heart attacks, of which half occur within two hours of the onset of symptoms. He trained six firemen as paramedics.
---
December 1969 saw Squad 59, working out of a county fire station on the Harbor General campus, make its first run. Its first rig was an old Forestry station wagon with grass growing in the back. Mr. Hahn heard of their clunker and mysteriously a new station wagon appeared at the station! Paramedics were forced to carry a nurse on the runs prior to being certified by the Wedworth-Townshend Act of 1970. Their first save was a choking restaurant patron. LA County's Squad 36 was the next unit and city fire ambulances in LA also got into the act.
The 1973 EMS Act funneled money into states for setting up EMS systems and by 1979 paramedics were in most medium-to-large cities and almost all ambulance attendants had basic EMT training. Tiered response meant a fire engine with personnel trained in CPR would arrive to buy time for patients until the ambulance arrived. Ambulances were larger and made to meet government standards. In no small measure did "Emergency!" stimulate the public's interest in EMS. Senator Alan Cranston in September 1972 thanked Jack Webb for helping pass the 1973 law.
---
The Eighties saw the introduction of automated defibrillation gear for basic EMT's and First Responders (a modified version of the basic EMT that came about in the early Eighties). This saved even more lives. Finally, Enhanced 911 first appeared in Chicago in 1977. It displays a caller's name and address on a console upon ringing the dispatch center.
Thanks to firefightersrealstories.com, US News and World Report, Project 51 and Kevin Tighe, Today's Health magazine, American City magazine, and Sherri for the content of this section
My Library
My FAQ Addenda with more memories 1.22.98 revision
Article from 1974 on the real LA County paramedics and page two
Article from 1971 Science Digest
Reference materials on EMS history and the LACoFD paramedics

Note: You will probably have to go to a good library; few FTP or Gopher servers have these periodicals.
"Paramedics give fast, professional care: Los Angeles County" American City 89: 55-6 March 1974. Has a picture of a real rescue squad from LACoFD.
"Firemen Paramedics" A. Hamilton. Science Digest 70:18-21 August 1971. Pictures, one in reverse. Includes the real "Rampart" hospital (Harbor General).
"Needed: First Aid for Ambulance Services" Reader's Digest 90: 98-102 February 1967. Mentions the bad state of ambulances in postwar era.
"Ambulance Personnel Training" Today's Health 35:17 January 1957.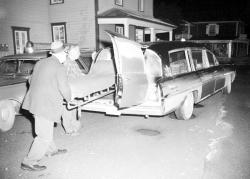 "The Rescue Squads Roll On" Reader's Digest 68: 175-6 April 1956. Details the advent of volunteer rescue units and the first efforts at EMS in rural America.